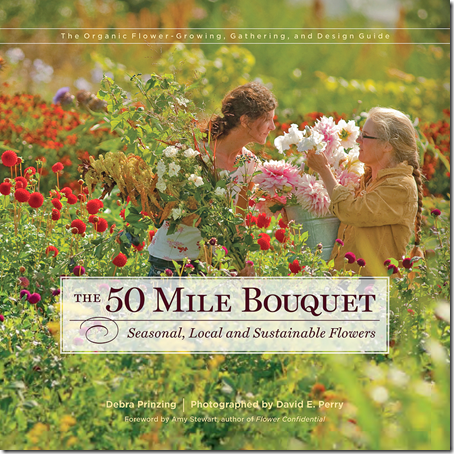 I have not been this inspired by a book since Amy Stewart's Flower Confidential in 2007. Flower Confidential inspired me to start Local Color Flowers back in 2008 and the 50 Mile Bouquet is going to inspire me to grow LoCoFlo into the business I always envisioned.
The 50 Mile Bouquet is a beautifully written and photographed book about local flower farmers, designers that specialize in using locally grown flowers and clients that choose to buy local for their weddings and special events.
The grower section was great to read because I ACTUALLY KNEW some of the growers! How cool is that to see people you know in a book?
Much of the book focuses on the progressive growers in California, Oregon and Washington State. I loved learning about a urban LA flower farm called Silver Lakes Farm that grows beautiful flowers in the middle of Los Angeles! I've already referred two west coast friends to them! I was super excited to read about Flora Grubb and the Cutting Garden, an amazing spot that my dear friend Susannah took us to the last time we were in San Francisco.
While I LOVED reading about the growers, I was truly inspired reading about so many amazing designers that value local flowers…many of whom, like me, have built their business on buying local. I suddenly felt less alone when I read about designers with untraditional spaces like Lila B. Design, that works out of a loading dock in the Mission in San Francisco. (made me feel better about our garage studio). I felt less like a freak when I read about the ladies at Artis and Greene who have totally rejected floral foam and chemical preservation of flowers. I knew I was on the right track when I read about Max Gill, the floral designer from Chez Panisse that forages in his Berkeley neighborhood for interesting design ingredients.
I actually cried several times while reading the book because I felt so…included! I was so proud of these growers and designers I was reading about and I was proud of the community we are building at Local Color Flowers. I was proud that we are building a business on beautiful local products and inspired relationships with our growers and clients.
If you get the chance, read the 50 Mile Bouquet! You won't be disappointed!